Service to their customers, attention to detail, and a level of professionalsim that is higher than normal in the industry, are the hallmarks of Shutter Worx and Todd & Sara Wade. Offering quality products at affordable prices is their goal.
The Wades know that choosing window treatments can be stressful; after the myriad of construction decisions, it is often the finishing touch to a new or updated home. "Don't expect just a drive-by consultation from us," they say. "We believe that each customer has their own unique set of needs. It is very important for us to get a full understanding of those needs to help them choose the products that will best suit their home in style and function, while making it an enjoyable experience."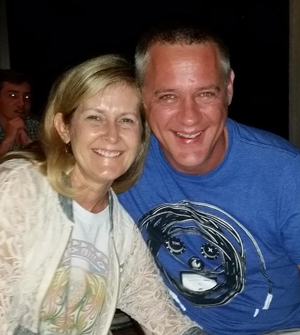 Todd & Sara Wade are the owners and design team of Shutter Worx in Wilmington, NC. Making a long-time dream of Todd's a reality, they began the business in 2004 from their home.
Todd attended UNC Greensboro School of Music Education with the intention of a career in music. However, he realized soon after graduation, that "music makes a good hobby" and decided to pursue another career. As a youngster, he worked summers after school for his grandparents and parents who owned and operated A1 Blind/Blandwood Interiors in Greensboro, NC, so it was a natural progression for him to continue the family business. After college, he worked as a sales manager for a shutter manufacturer in Charleston, SC and as a sales manager for a retail store upon his return to Greensboro. This experience and knowledge was the basis for Todd wanting to start his own business. Meeting Sara was the perfect match both personally and professionally. Sara's extensive background in design meant adding fabric treatments to the mix. Sara has an Interior Design degree from RCC, a degree in Studio Arts from UNC Greensboro, and has worked as a showroom designer, and in space-planning/retail sales for furniture stores. After marrying in 2002, they were ready to put their entrepreneurial spirit into action. They both share a desire for coastal living, so Wilmington, with its rapid growth was a natural fit. They moved there and began Shutter Worx in 2004.
You are invited to view the gallery of local homes on the products page to see their work. In-home consultations are always free, so contact Shutter Worx today to schedule yours.